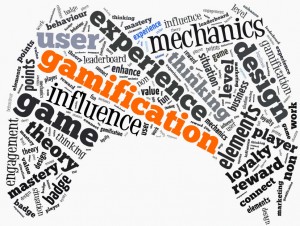 Last week we presented at the 2012 Tech Jam on the power of gamification and the development process for creating HTML 5 games. An exciting new form of marketing, many large companies, from Microsoft to Oracle, have developed HTML 5 games to market their products.
Over the past quarter, our digital team took a deep dive into gamification and developed a custom HTML 5 game for one of our Silicon Valley clients. Our clients have seen the value that gamifaction can bring to their marketing, so we want to spread the knowledge. Since it's pretty new, we thought we'd share our insights and show you why it needs your attention.
What is Gamification?
Gamification is defined as the use of game play mechanics for non-game applications (also known as "funware"), particularly consumer-oriented web and mobile sites, in order to encourage people to adopt the applications. It also strives to encourage users to engage in desired behaviors in connection with the applications.
To put it simply, gamification is taking game strategy and design and weaving in marketing tactics.
Why you should care
In the coming years, the gamificiation industry is expected to really take off. As we're seeing more and more companies introducing gaming into their marketing mix, we feel now is the time to take advantage of this cutting-edge technology.
You can expect to see increased attention and engagement from your customers with gamification. Plus, we're seeing that many of these games have gone viral across social media, increasing your reach even further than you ever could have imagined.
If you're still not convinced, here are some compelling stats to check out:
70% of Global 2000 Organizations will have at least one gamified application by 2014
2.7 B in direct spending on gamification by 2015
5O% of Organizations will manage innovation processes through gamify
Ready to learn more?
Sweet, we're ready to give you more! We have just the thing for you to explore and learn more about this exciting field. A full presentation on Gamification and HTML 5 game development, equipped with the benefits, the process of development and kick butt examples.